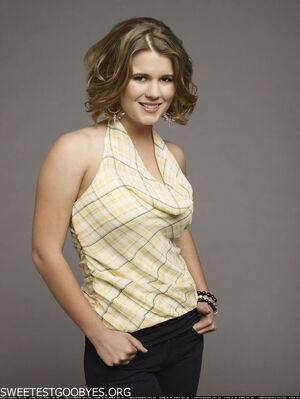 Georgianna "Georgie" Jones (formerly Quartermaine) was a fictional character on the ABC daytime soap opera General Hospital.
Actress History:
Edit
Alana & Marina Norwood (1995; recurring)
Caitlin & Ryan Cohen (1995; recurring)
Caroline & Elizabeth van Heil (1996; recurring)
Breck Bruns (1997-2002; recurring)
Lindze Letherman (09/2002-12/2007; contract & 03/2010; recurring)
Other Information:
Edit
Born (on-screen) March 7, 1995 [later changed to March 7, 1988]
Died December 17, 2007
Family and relationships:
Edit
Sibling(s):
Edit
Marital status (at death):
Edit
Past marriage(s):
Edit
Children:
Edit
Other relatives:
Edit
Andrew Jones Sr. (biological paternal grandfather, deceased)
Cindy Jones (biological paternal grandmother, deceased)
Peter Cummings (maternal granfather, deceased)
Bertha Ramirez (maternal grandmother, deceased)
Anthony "Tony" Jones (biological paternal uncle, deceased)
Robert Scorpio (adoptive paternal uncle)
Barbara Jean "B.J." Jones (biological paternal cousin, deceased)
Lucas Jones (biological paternal adopted cousin)
Robin Scorpio (adoptive paternal cousin)
Emma Drake (adoptive paternal first cousin once removed)
Flings and relationships:
Edit
Also See:
Edit
Ad blocker interference detected!
Wikia is a free-to-use site that makes money from advertising. We have a modified experience for viewers using ad blockers

Wikia is not accessible if you've made further modifications. Remove the custom ad blocker rule(s) and the page will load as expected.